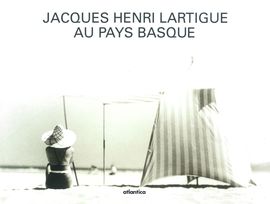 Price : 28.00 €
Size :
30 x 24 cm - 160 pages - 100 photos N&B - Relié
Publication date : 2002/07/31
ISBN:
2843945402
Jacques Henri Lartigue au Pays basque
Description
This work of photography by Jacques-Henri Lartigue is profoundly influenced by the carefree atmosphere of the seaside resorts of the Golden Age. The French Riviera, Normandy, the Basque coast and its hinterland are all sources of inspiration to him.
Lartigue captures the essence of the Basque country without excessive folklore and with the impartiality of an eye whose focus is a well-balanced beauty, with very little of the picturesque. Lartigue found in Biarritz the period's most chic resort on the Atlantic coast and the obvious site for unaffected images, which are especially natural in that they serve above all as a reminder of its every day wonders. Lartigue was able to freeze moments of happiness with an incredible liberty of tone (and format).
Send an information about this book to a friend :
×